A young family has one place left before their nearly five-month-old daughter Evelyn breaks the record for the youngest person to have visited all 50 states. However, the life-changing journey almost didn't happen.
"I was told I couldn't have kids," Jenna Woods told Fox News in an exclusive interview. "So then when we found out I was pregnant with Evelyn, it was a shock."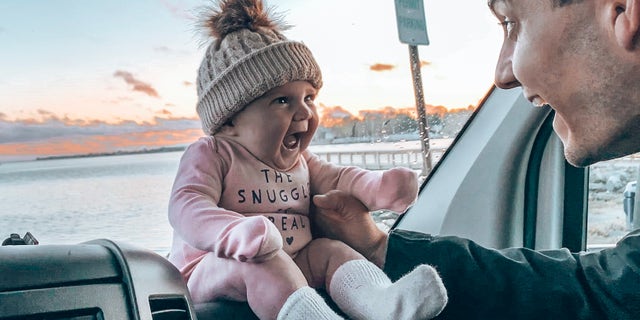 Jenna and Ryan Woods, high school sweethearts from Modesto, Calif., were living in downtown Los Angeles working with a distillery – and getting restless – when they learned they were expecting.
enna and Ryan said they did not set out "just to beat a record," but were inspired by the Yeats' story and wanted to have a similar experience for their new family after Evelyn was born on January 26.
But the California natives, who had never driven an RV before, decided to give themselves another challenge, too.
"We also have our dog, Bleu, who is a good dog, but it can be difficult because he and Evelyn have different schedules," Ryan said to Fox News.